The Advisory Council released a series of reports with their recommendations for improving the prospects for inclusive economic growth in Canada, including the Canadian Business Growth Fund in the Second Report "Unlocking Innovation to Drive Scale and Growth".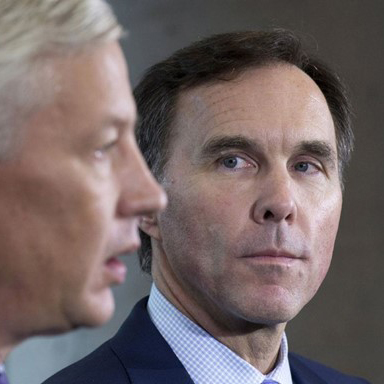 The Government of Canada welcomes the announcement by Canada's leading financial institutions to establish a business growth fund that will help ambitious Canadian companies get the capital they need to grow and succeed globally. This will help them create good, well-paying middle class jobs, and will grow Canada's economy over the long term.
Canada's leading banks and insurance companies today announced their intent to create a fund to invest in Canadian businesses over the next decade to bolster growth and innovation.
The Canadian Business Growth Fund, which will be an independently managed entity supported by Canada's leading banks and insurance companies, today announced the appointment of George Rossolatos to the position of CEO effective January 2018. Mr. Rossolatos will be working alongside Dale Ponder, the Fund's newly appointment independent Chair.
CBGF today announced the launch of its fund and the start of its national mandate to help Canadian entrepreneurs access the capital they need to drive growth and expansion for their high potential mid-market businesses.
CBGF announces first investment in Lift Auto Group, based in Kelowna, BC
CBGF announced that it has invested $15 million in Lift Auto Group. The deal was CBGF's first investment as part of its mandate to provide long-term, patient, minority capital to ambitious entrepreneurs and their high-growth mid-market Canadian companies.
CBGF announces PayBright as its first investment in Ontario
CBGF announces Vendasta as its first investment in Saskatchewan
The Canadian Business Growth Fund and a similar pioneering fund in the U.K., Business Growth Fund, partner up to invest $15-million in a Vancouver-based digital consulting firm, the first such joint financing between the two entities.
CBGF recognized as the 2019 Provider of the Year by the Canadian Private Equity Summit
CBGF announces Proposify as its first investment in Nova Scotia
CBGF announces Librestream as its first investment in Manitoba
CBGF announces 15th investment since launch and first investment in Quebec with Busbud
CBGF signs Diversity in Action initiative and becomes an ILPA signatory
The ILPA Diversity in Action initiative brings together limited partners and general partners who share a commitment to advancing diversity, equity and inclusion in the private equity industry. The goal of the initiative is to motivate market participants to engage in the journey towards becoming more diverse and inclusive and to build momentum around the adoption of specific actions that advance DEI over time.
CBGF holds inaugural CEO Portfolio Day bringing together its portfolio company CEOs
The purpose of the CBGF Portfolio Event is two-fold, to provide high-profile educational speakers covering non-traditional topics, and to bring together our portfolio company leaders.
CBGF announces Cold Bore Technology as its first investment in Alberta
CBGF announces 20th investment since launch in Quebec-based Shopper+
CBGF recognized by CVCA as one of the Most Active Private Equity Investors and the seller of one of the top 3 disclosed PE exits in the first half of 2021
CBGF realizes its third exit with Thoughtworks to acquire Connected
CBGF announces ProcedureFlow as its first investment in New Brunswick

CBGF celebrates its 30th investment since launch in 2018 with the investment in Specialty Medical Partners